0.0.15
Happy 2018!
Improved Music Mode
The music mode has been redesigned.
Added support for displaying and toggling album arts.
Added support for key bindings in music mode.
Used separate buttons for closing the window and returning to normal mode.
A lot of bugs related to Music Mode have been fixed.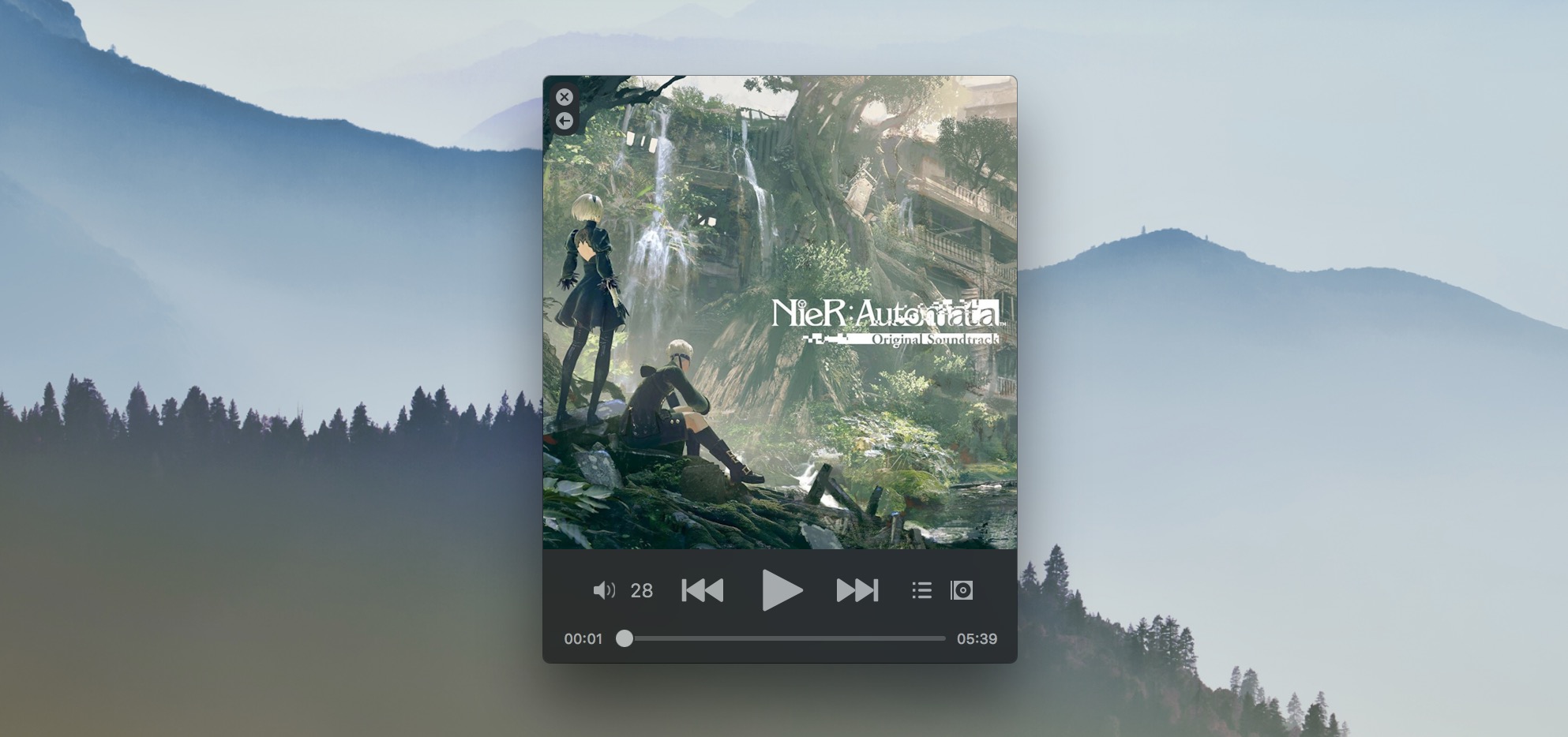 Command Line Tool
Finally, the command line tool for IINA is here. To enable it, simply add a symlink to /Applications/IINA.app/Contents/MacOS/iina-cli in your PATH, for example:
ln -s /Applications/IINA.app/Contents/MacOS/iina-cli ~/bin/iina
Run iina --help for usage.
MediaPlayer Framework
IINA now uses the modern MediaPlayer Framework for system-wide media control. This includes:
Fix of all media key related bugs in previous versions.
Support for other media control commands, such as AirPods and Bluetooth headsets.
Media control will presist in the Touch Bar Control Strip.
Support for the Now Playing widget.
The MediaPlayer Framework only works in macOS 10.13+. On earlier system versions, it will fallback to the old mpv media key handling mechanism.
New Settings
Added options to pause/resume the media when:
- Minimized/un-minimized window;
- Window became inactive/active;
- Left/entered full screen.

Added an option to display time and battery information in full screen.
Added options to control the initial window size and position.
Added options to control when and how to resize window to fit the video.
Saved Filters and New Filter Presets
Now users are able to save added filters for later use.
Users can now assign shortcut keys to a saved filter, to toggle a filter on/off quickly.
Added 3D LUT as a video filter preset; when a 3D LUT file is drag & dropped into the window, will be loaded automatically.
Revised Key Binding System
Most of the menu items are now linked to (mpv) key bindings.

Therefore, users are given full control of menu shortcuts. To change the shortcut for a menu item, just edit the corresponding key binding in Preferences - Key Bindings. If there are more than one corresponding key bindings, the first one will be associated with the menu item.

We changed and removed some default key bindings.

If you prefer the previous key bindings, edit them in Preferences.

Updated VLC and Movist key bindings.
Redesigned the Key Binding tab of Preferences.
Other Improvements
In the Safari Extension, added "Open in IINA" in context menu when right-clicked a link. Download it now.
Added haptic feedback when dragging OSC for Force Touch enabled trackpads.
Accept ISO639-1 codes for settings that requires language codes.
Other minor improvements are not documented.
Bug Fixes
Fixed ESC key not working in legacy full screen.
Fixed animation missing when exiting full screen by clicking the traffic light button.
Fixed wrong window size when switched media in full screen.
Fixed controls in sidebar not being updated under some circumstances.
Fixed a bug where the window could be resized to small size and crops OSC.
Fixed a bug where subtitles cannot be reloaded.
Fixed a crash when loading online subtitles.
Other minor fixes are not documented.
We need your help
This is the last beta version before the 1.0 release. We need your help to make IINA even better and well-prepared for the stable release!
Translations

The following translations are out-dated:
- Polish
- Ukrainian
- Turkish
If you are interested in updating translation in these languages, or providing a new translation, please contact us.
Feature Requests and Bug Reports

If you have a feature request or bug report, please report it as soon as possible.
Contributing to the Code

If you are a Cocoa developer and would like to contribute, please open pull requests on GitHub directly.
Our Email address is
[email protected]
. You can also open an issue on
GitHub
directly.